Meet Our Guest
Kris Neri is an award-winning author.
She also an educator and teaches writing classes through UCLA's extension program, as well as an entrepreneur – and has owned a book store with her husband for a decade in Sedona AZ, but now currently resides in Silver City NM.
We're going to find out about writer rebranding – and her new book called HOPSCOTCH LIFE where we explore that.
Questions We Asked This Guest Include:

Tell us about your latest novel, HOPSCOTCH LIFE, which you describe as an "accept yourself in all your glory" novel.
You write crime novels, fantasy novels, and now general fiction. Why don't you stick with just one category?
Can you share some tips for rebranding yourself as a writer?
How do you keep your existing readership, if you keep changing what you write?
You also teach writing. Can you share some of the mistakes you see in your students' writings? Editing?
You've also owned a bookstore, which many writers will say is their dream job. Is it really a great job for a writer?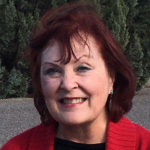 Kris Neri's latest novel, HOPSCOTCH LIFE, featuring quirky protagonist Plum Tardy, is a New Mexico-Arizona Book Award winner.
She also writes the Tracy Eaton mysteries and the Samantha Brennan & Annabelle Haggerty magical series.
Neri's novels have been finalists of such prestigious awards as the Agatha, Anthony, Macavity, Lefty, and others.
She is a two-time winner of the New Mexico-Arizona Book Award and a three-time Lefty Award finalist for her humorous novels.
She teaches writing for the Writers' Program of the UCLA Extension School and other organizations.
Kris and her husband also owned and operated The Well Red Coyote bookstore in Sedona, AZ for ten years. Today they make their home in Silver City, NM.