Victoria Andersen, host and author shares an excerpt from her first memoir "Touched" book.

Have you been wronged by someone?
Do you wonder if "bad deeds come home to roost?"
Have you witnessed "instant karma" on those who have ill intentions against decent people?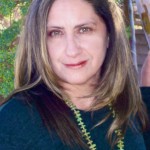 Victoria Andersen was born and raised in Los Angeles, California. Growing up in the San Fernando Valley, she experienced personal, social, and environmental transformational events, such as the death of her mother, riots, and natural disasters, including a major California earthquake.
While running a successful antique business with her husband, she was guided to move to a town she'd never even heard of before, just outside of Albuquerque, New Mexico.
Leaving everything behind, she moved to the Southwest and begins a new life.
She currently lives in central New Mexico with her husband, cats, and wildlife that roam through her yard, near the Rio Grande River.
When she isn't writing, she's working in her ceramic studio, gardening, or hiking ancient Native American petroglyphs near her home.