About This Episode
In this podcast episode, you'll learn about:
● Where does creative guidance, direction, inspiration come from?
● How do you creatively follow what you don't know?
● How ancestor's DNA is an "owner's manual" of how to make art.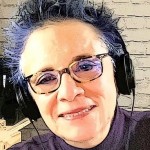 Pat Benincasa is an award-winning artist, art educator, and podcaster who loves to give form to a good idea or story.
Her art has received national and international recognition and she has been awarded National Percent for Art and General Services Administration Art in Architecture commissions.