Meet Our Guest
Adam Hommey is a speaker, author, consultant, trainer, and podcaster with nearly 20 years' experience helping business creators.
You might be wondering: What does Podcasting have to do with fiction writing???
We're about to get that question answered.
Questions We Asked This Guest Include:

We know there's plenty of podcasts featuring non-fiction book somebody has a process or training they can pitch on it. So …
How does launching and hosting a podcast help fiction authors create their stories and build their following so they create and sell more books?
Some people believe launching and hosting a podcast is a lot of work, but you disagree. What do we need to know here?
For fiction authors, especially when starting out, there is a LOT of competition and a long road to travel. How does hosting a podcast get you there faster?
You also state that hosting your own podcast can help you get booked on more of other people's podcasts and grow your audience for your book. Why is that? How does that work?
Let's say someone has no website, no list, no following, and they're just starting out. Should they podcast first, or wait until they're more established to begin?
If a fiction writer asked for a one-sentence answer to the question "Why should I launch a podcast?" what would you say to them?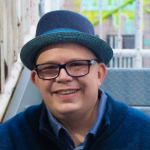 Adam Hommey is a speaker, author, trainer, and consultant with nearly 20 years' experience helping business creators, like you, WIN at the game of business and marketing so you can thrive from YOUR intersection of YOUR brilliance and YOUR passion while making a difference for your community, market, and audience.
Adam is the author of Groundhog Day is an Event, Not a Business Strategy, and a contributing author to Journeys to Success: The Millennial Edition - both international Amazon best-sellers.
He has spoken on stages around the country for many years and is a sought-after expert on podcasting for entrepreneurs.
As creator of The R.E.A.C.H. System, Adam helps you exponentially reach more profitable customers!