Meet Our Guest
Genaro Ky Ly Smith is a distinguished educator and award-winning author.
We're going to find about writing historical fiction and poetry—and while learning about Countries of Dust and Dreams.
Questions We Asked This Guest Include:

What has inspired you to write about a particular country & era – the theme in your books?
How does your birthplace inspire your work?
What prompted you to writing?
What advice would you give to new or seasoned writers? And what are some KEY TIPS for writing historical fiction?
What stories do you look for? or your message you're sharing from them?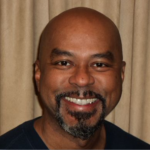 Genaro Kỳ Lý Smith was born in Nha Trang, Vietnam in 1968.
He earned a B.A. in English from California State University, Northridge in 1993. He later earned an M.A. and M.F.A. in creative writing from McNeese State University in Lake Charles, LA in 1999.
He is the author of The Land Baron's Sun: The Story of Lý Loc and His Seven Wives (UL Press), which won the 2016 Indie Book Award in poetry.
His novel The Land South of the Clouds, the second in the trilogy, was released on October 25, 2016. It took second place in 2017 for the Indie Book Award.